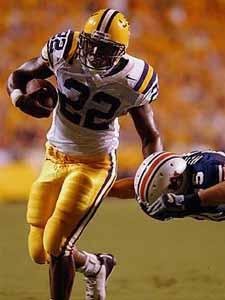 I hate only one thing about college football and that is that the opening weekend sneaks up on you. No football game that counts should happen before Labor Day. Hey, if I can still wear white pants until Labor Day, that means it is still summer. And that means no real football.

Oh well, I guess all it means is that I didn't get to churn out a 3,000-word column breaking down my top 16 teams and ultimately anointing my title pick. Instead, I will just give a quick run down here. You can feel free to take these picks to the bank.

BCS Conference Winners:

Pac 10 - USC. You can see my Pac-10 preview here, but the gist of it is that I'm not one of the people doubting the Trojans. When you have a former #1 recruit stepping in at QB after spending two years in the system, as John David Booty is doing, it is not called rebuilding, but reloading. Matt Leinart was far less proven when he took over for Carson Palmer. Booty is going to throw for at least 2,500 yards and 30 scores this year. As for the rest of the team, let's see ... They have arguably the best defensive linemen in the country. They have their best linebacking group of the Pete Carroll era. They have an improved secondary. Their tight end, Fred Davis, is a monster. They have like 19 sweet running backs. Oh yeah, and they have one of the best receiving tandems in recent memory in Dwayne Jarrett and Steve Smith. Sick, sick, sick. Plus, they play almost every key game at home. 12-0 and a trip to the title game sounds about right.

Big East - West Virginia. I'm a sucker for teams that run the spread offense and rack up thousands of rushing yards. Especially when the guys doing the running emerged as freshmen sensation as QB Pat White and RB Steve Slaton did last year. The Mountaineers have a soft schedule and a lot of talent. Ring it up.

Big 12 - Texas. I've got Ohio State beating that Longhorns next weekend but I think there is a good chance that SC is the only undefeated team by the conference title games, so Texas could get back to the promised land. Either way, the Big 12 sucks, Oklahoma sucks, and UT should win the conference easily.

Big 10 - Iowa. I wanted to pick Michigan, but between going to Penn State and going to Ohio State, it doesn't look good. Plus, the only way the Buckeyes aren't winning this conference is if someone gets to play them at home, beats them, and then avoids losing more than one game the rest of the way. I've got Iowa accomplishing the feat (losing to Michigan) behind quarterback Drew Tate and running back Albert Young.

ACC - Clemson. Everyone seems to think Florida State is back (they aren't), that Miami isn't fading (they are), and that Virginia Tech has the best defense in the country (actually, they might). Meanwhile, I am enamored with Clemson's experience, defense, and monster running game that features sophomore James Davis and frosh C.J. Spiller. This is my big sleeper pick.

SEC - LSU. The SEC should be a bloodbath this year, so I'm going with the team that has depth at key positions. What happens to Auburn if Kenny Irons goes down? How about Florida if they lose Chris Leak? Alabama without Kenneth Darby? You get the idea. Meanwhile LSU has one of the best quarterbacks in the country in JaMarcus Russell, yet he barely kept his job because backup Matt Flynn is so good (you might remember him carving up Miami last year). At running back they have Justin Vincent, who was the freshman hero when LSU upset Oklahoma in 2003 ... and he's a backup behind monster Alley Broussard, who would have started ahead of eventual first-round pick (and current fantasy football favorite) Joseph Addai if not for a knee injury. Plus they have four veteran receivers, the best safety in the country, and a relentless defense. I'm telling you, I love this team.

I think the additional teams gaining BCS births will be Ohio State (lone loss against Iowa) and Auburn (lone loss against LSU).

As for the champ ...

I have LSU losing at Tennessee then defeating the Vols in a rematch in the SEC title game. One loss teams such as Texas and Ohio State plead their case for a title birth, but by virtue of being in the country's toughest conference, the 12-1 Tigers get the nod. They will meet the 12-0 Trojans in the game that should have happened in 2003 (when USC won the AP title by beating Michigan while LSU knocked off an undeserving Oklahoma team) with LSU coming out on top.

That's right, I am taking an SEC team that has to play Auburn, Tennessee, and Florida on the road. No, I'm not insane.

Go Tigers.